Care Tasks Reusable Sticker Set
Description

What's Included

Details
Breaking bigger tasks into manageable chunks is a must - especially for neurodivergent kids, empowering them to handle care tasks more independently.
Created to help autistic kids with bathroom hygiene, this sticker set pairs perfectly with the Mighty + Bright Task Chart. Each Task Chart can display 14 total tasks, and this sheet will give you plenty to choose from. Label your chart with "Take Shower," "Brush Teeth," "Use Toilet," or "Wash Face," then use the stickers to show a step-by-step of each hygiene task.

Note: These stickers are static cling, and may also work directly on your shower tile, so you might consider sticking the "take shower" steps directly to the shower wall! Please note these are reusable cling stickers and will only adhere to glossy surfaces like dry erase boards or windows.
Details
Reusable sticker sheet includes 46 stickers:
Take Shower: take off clothes, dirty clothes in hamper, turn on shower water, take shower, turn off shower water, dry off with towel, hang up towel, put on underpants, put on pants or shorts, put on shirt, put on socks, put on pajamas, put on shoes, put on jacket.

Brush Teeth: get toothbrush wet, squeeze toothpaste onto brush, brush inside teeth, brush outside teeth, brush tops of teeth, spit out toothpaste, rinse mouth with water, rinse off toothbrush, put cap on toothpaste,
Wash Face: turn on water, pat face with water, rub face soap on face, wet wash cloth, turn off water, rub wash cloth all over face, dry face with towel
Use Toilet: toilet seat up, pull down underwear and pants, use the toilet, get toilet paper and wipe, pull up underwear and pants, toilet seat down, flush, turn on water, get hands wet, get soap, rub hands with soap, turn off water, turn on water, rinse off soap, turn off water, dry hands with towel.
---
Care Tasks Reusable Sticker Set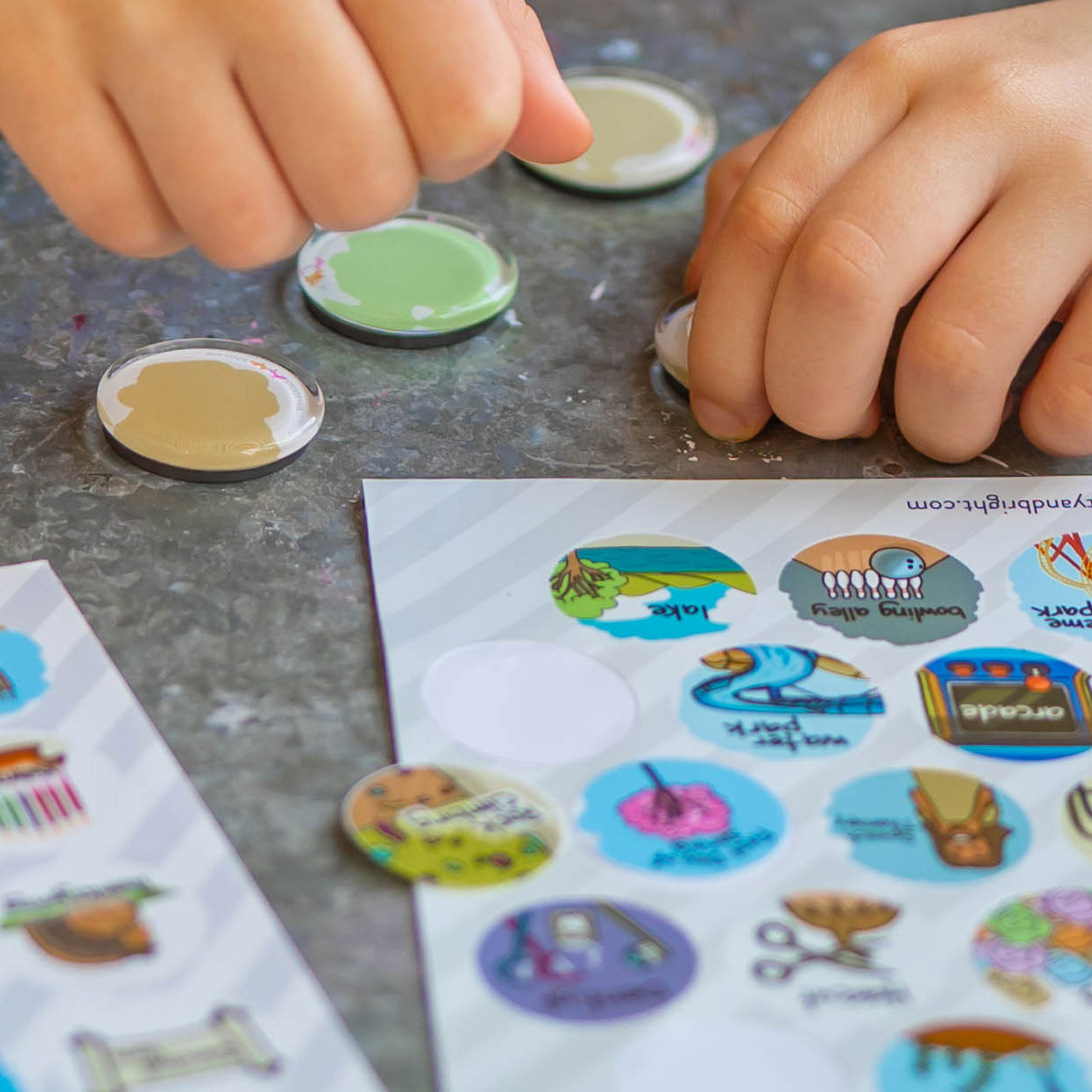 Stick 'em Again and Again
Our proprietary design incorporates unique reusable cling stickers, which are designed to use with our magnets. They can be used over and over again to customize your visual system.
We've thought through everything, and know that you don't want a lot of little pieces that can get lost. Store them on the back of your chart when not in use.
Fun and Engaging
Kids and adults alike love stickers, and our bright designs get people of all ages excited about using their own visual structure.