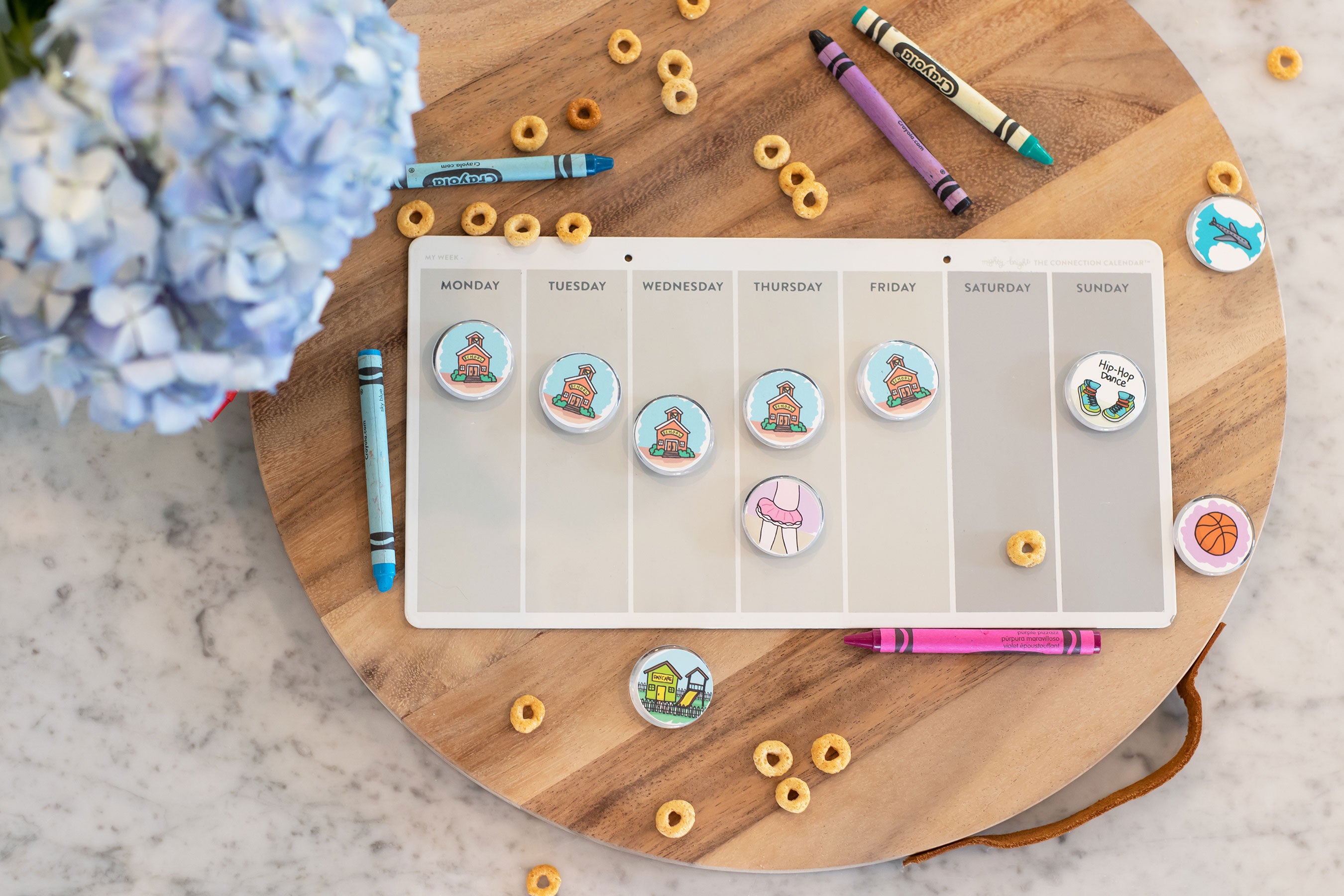 Frequently Asked Questions
Since 2013, founder Sara Olsher been working hard to create the perfect visual charts for your kids, helping them to understand their lives a bit more easily.

Below you'll find a list of our most frequently asked questions, and the videos below can help, too. If you have any questions, please don't hesitate to reach out! You can use the chat button on the bottom right of your screen, or email/text here.

Thank you for being here!
Sara
Products
How do I hang my chart?

If you have a magnetic fridge, your calendar will stick to the fridge using the large black magnets on the back. 

Our charts have two small holes at the top which allow you to hang them on a wall or other non-magnetic surface. We now include brad nails with every chart.
How can I display a full month?

Whether you're hanging your calendars on a fridge or a wall, you can easily move them at the end of each week, so your display is always up-to-date. This is especially convenient for divorced families with complicated custody schedules, kids who have parents who travel for work, or families who want to see what to look forward to. For more information, watch our video here.
Why isn't my sticker sticky?
Ordering, Shipping + Returns
Do you offer gift notes?

Yes! We have a very cool digital gift card program, where your recipient will get a message from you via text or email when their package is delivered.

Here's how it works:

Buy your gift like you normally would and proceed to checkout
After you've checked out, you'll ve given the opportunity to enter in your gift message and the recipient information.
As your gift is delivered, your message will be automatically sent.

Thank you for being so generous with those you love.
When will my order ship? What service do you use?

We ship Monday - Friday. We attempt to ship all orders within 2 days, but sometimes delays occur. Pre-orders ship on the date mentioned in the product listing.

We almost exclusively use USPS to ship your order. Shipping may be via First Class or Priority, depending on the size of your order.

USPS First Class mail is estimated to arrive within 5-7 days of shipping, and Priority Mail is between 1-3 days. International shipping can take as long as 3-4 weeks depending on customs. 
Do you ship outside of the USA?

Yes, we do! Enter your address at checkout to see our International rates (and if your country isn't listed, please contact us). We primarily use DHL and USPS for International shipments, but may also use FedEx.

Please note that additional import/customs fees/VAT may apply. Each country is different, and we leave it up to you to research and pay any applicable import duties, taxes or fees.

We ship Monday - Friday. We attempt to ship all orders within 2 days, but sometimes delays occur. 

For Canadian Customers

Brokerage fees can be astronomical. If your package was shipped with UPS, this link will help you reduce brokerage fees. And no matter who your package is shipped through, this link will help you save money on courier fees. Special thank you to customer Kelly in Canada for sharing these links!
Lost Orders and Shipping Problems

Lost or damaged orders are frustrating for both customers and businesses; shipping companies often refuse to reimburse anyone when they lose or damage packages, leaving customers upset and small businesses having to pay for the original item, its shipping cost, the replacement item and its shipping cost. In addition, many carriers no longer include any type of insurance on most of their services.

We have partnered with Route packaging insurance to provide shipping security. This covers product loss, theft or damage, and allows you to self-resolve issues in seconds if something goes wrong. If you opt out of Route's insurance, Mighty + Bright cannot be responsible for lost or stolen packages that have a status of delivered. 

The following message is displayed at checkout: We are a small business and CANNOT responsible for lost packages. We offer Route Package Protection so that you'll be covered if a package is lost in the mail. If you remove Route from your order, please know that we will not replace a lost package, and we cannot make any exceptions.

If your package was returned to us because an incorrect address was provided (including a missing or incorrect apartment number) we can either refund you for the items, excluding shipping costs, or for an additional shipping fee, re-ship the products to the correct address.

If you gave the incorrect shipping address and your order has not yet shipped, please contact hello@mightyandbright.com.
What is your return policy?

Mighty + Bright has a killer return policy. Why? Because that's what we want when we shop online. We're here to help your family through hard stuff, so we have no interest in making returns hard! All we ask is that the products are in like-new condition - and we'll probably want to know what we could have done to prevent your return, so we can improve our products and service in the future.

As long as the items are in like-new condition (still wrapped and unused), you have a full year to return them. That's what we mean when we say killer return policy.

Once your return is received, we will refund your order within 1-2 days. It may take 5-7 days to show up on your bank statement.
Quality Issues

Quality Issues within one year

We work with our manufacturer to make sure that our charts are of the utmost quality. We guarantee quality — meaning the magnets won't fall off the back and the calendar won't peel from the backing — for a year of normal wear and tear. If you're experiencing quality issues with your calendar, please contact us and give us your order number. We will replace your calendar at no cost to you.

Quality Issues after one year

Kids can be rough (and so can slamming refrigerators!), so after a year we expect that anything kids use will start to have issues. If you'd like to replace your calendars, we are happy to offer a one-time 15% discount. Contact us with your original order number (or if you can't find it, we can look you up!) for a one-time use, custom coupon.
How do I ship my order back?

Shipping Your Order Back

Please keep your box - if there's a problem with your order, it's the safest way to return it. Email us at help@mightyandbright.com (or reply to any email we've sent you) and request to return your order. If there's a problem with the order (as in, we made a mistake) we will send you a return label at no expense to you, most likely for USPS. If you changed your mind about the order, you'll need to pay for return shipping (after all, we paid to ship it to you!). Please note, if you are shipping an item over $75, you should consider using a trackable shipping service or purchasing shipping insurance, as we can't guarantee that we will receive your returned item.

Refunds (if applicable)

Once your return is received and inspected, we will send you an email to notify you that we have received your returned item. All returns must be in new, unused condition.

If your refund is approved, your refund will be processed, and a credit will automatically be applied to your credit card or original method of payment. If you haven't received your refund within 5-7 days of being notified that your refund has been processed, please contact us and we'll make sure it went through. Otherwise, contacting your bank will be your best bet. 
Bulk Orders + Giving Back
Can I set up a fundraiser?

Absolutely, yes! We've had people do fundraisers for Pediatric Cancer Awareness Month, Brain Tumor Awareness Month, and to celebrate the end of active treatment. We can donate to one of our partner organizations, or we can ship the products directly to you to donate to one of your local hospitals. For more information on setting up a fundraising page, please contact us.
Can my nonprofit/hospital purchase books and/or calendar sets in bulk?

Absolutely. We've even created special, low-cost versions of our products just for this reason, and we offer generous discounts as well. For more information, please see professional resources.
Do you offer bulk options for therapists, divorce mediators, or other professionals?

Absolutely. We've even created special, low-cost versions of our products just for this reason, and we offer generous discounts as well. For more information, please see professional resources.
Getting Involved
I am a school administrator or teacher - can we work together to create a tool for our families?
Do you have an affiliate program?

Yes! If you love our books and calendars, we love to give you something for sharing! Please fill out the following form and we'll get back to you:
Do you accept interview requests on your Raising Resilience™ Podcast?

In short, yes!

The format of the podcast is based on providing actionable advice for parents that will not stress them out. We've all heard scary statistics and Mighty + Bright has no desire to share those. Instead, we focus on what parents can do.

If this fits with your style, please don't hesitate to reach out and ask!
Will you publish my children's book?

Unfortunately, probably not.

While Mighty + Bright is a publishing company, we are not a publishing company in the traditional sense - all of our books follow a similar framework with the goal of showing children what to expect when something major in their life changes.

In addition, Sara's plate is extremely full with projects.

Before we address a new topic, we need any potential collaborators to have a deep connection in the community they'd like to address. If you're still interested, please contact us.
Contact
Still have questions? We're happy to help! Please contact us, or use the chat bubble at the bottom of the page.