Rhythms, Routines, and Rituals Reusable Sticker Set
Description

What's Included

Details
An extra sticker set to replace or add on to your daily calendar. Also great if you prefer to use our reusable stickers on your own existing calendar. Please note these are reusable cling stickers and will only adhere to glossy surfaces like dry erase boards or windows.
details
Reusable sticker sheet includes 58 total cling stickers, including:
Wake Up

Brush Teeth (2)
Go Potty (2)
Flush the Toilet (2)
Wash Hands

(2)

Get Dressed
Brush Hair
Make Bed
Breakfast
Put on Shoes
Get Jacket
Get Lunch
Snack (2)
Dinner
Bathtime
Floss Teeth
Put on PJ's
Read
Sleep
Hang up towel
Take Vitamins
Turn off lights
Errands
Lotion or Sunscreen
Clean up Messes
Medicine (2)
Outside Time
Free Play
Screentime (2)
Watch a Show (2)
Game Time
Hearing aids - put away

Hearing aids - check batteries

Hearing aids - clean

Hearing aids

Glasses - clean

Glasses - put away

Glasses

Inhaler (2)

Special Time (woman, light/medium skin tone)

Special Time (man, light/medium skin tone)

Special Time (woman, dark skin tone)

Special Time (man, dark skin tone)

Quiet Time (2)

Worry Time

Count Your Blessings

Roses + Thorns

Say Prayers
---
Rhythms, Routines, and Rituals Reusable Sticker Set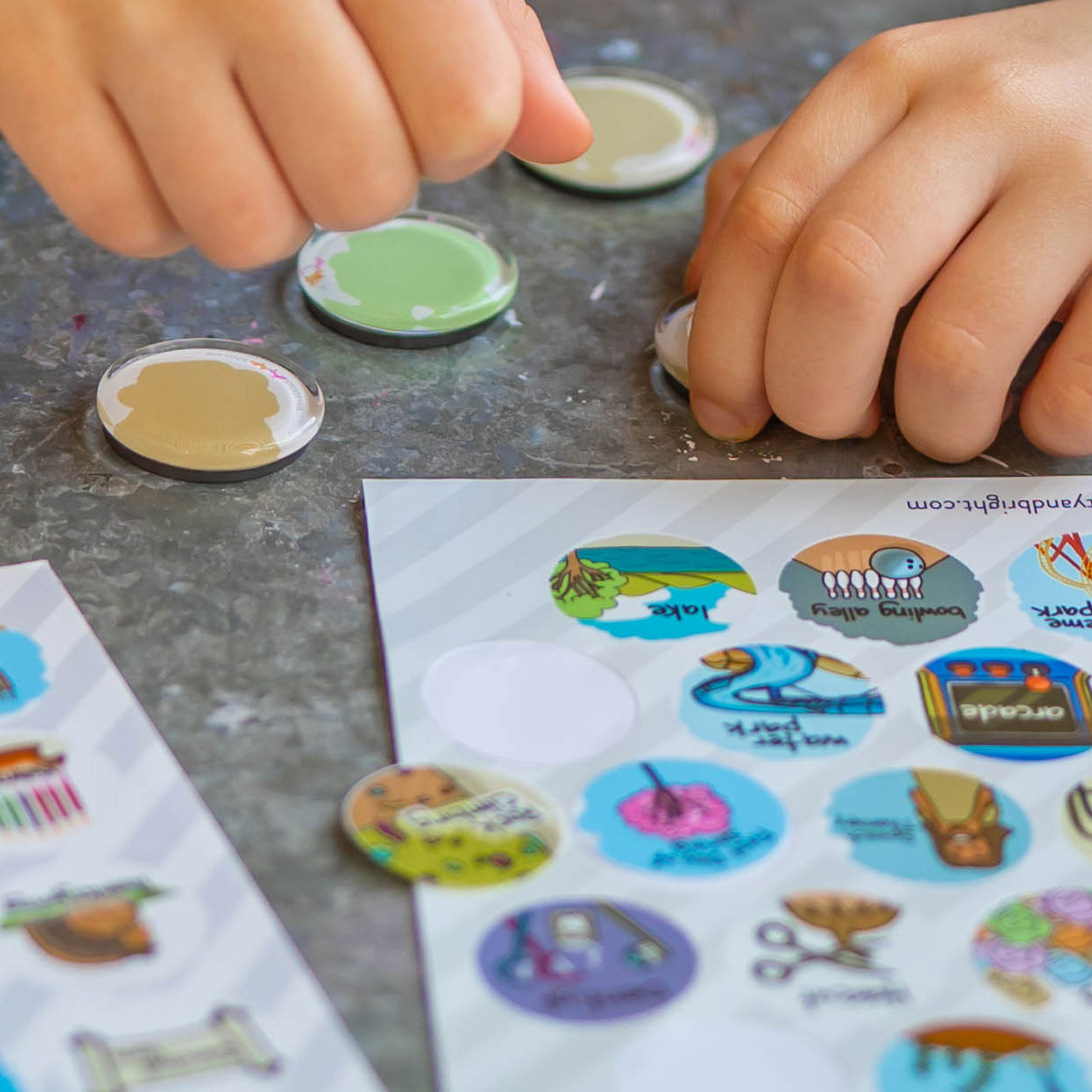 Stick 'em Again and Again
Our proprietary design incorporates unique reusable cling stickers, which are designed to use with our magnets. They can be used over and over again to customize your visual system.
We've thought through everything, and know that you don't want a lot of little pieces that can get lost. Store them on the back of your chart when not in use.
Fun and Engaging
Kids and adults alike love stickers, and our bright designs get people of all ages excited about using their own visual structure.